MDO (Medium Density Overlay)

MDO is made with a high-quality paper saturated with phenolic resin solids and overlaid on exterior-grade plywood panels.

The selected hardwood veneer beneath the overlay is free of patches, providing a smooth surface with minimal grain show through.

MDO plywood is manufactured with waterproof resins that meet or exceed all veneer-grade, adhesion, and construction requirements.

It is stronger, more rigid, and less subject to creep than composition products. Innerplies and backs are all ÒCÓ grade or better.

MDO plywood can be sawn, nailed, routed, shaped and drilled.

The overlay is bonded to a hardwood substrate for a smooth, paintable surface and may be specified on one or two sides.


Omegaboard®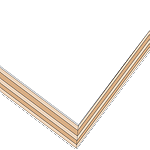 Omega SignBoard: Hardwood Core, Vinyl Surface

Omega SignBoard's hardwood plywood core is lighter and stronger than MDO.

Unlike traditional MDO products, the vinyl surface does not require time consuming and costly painting, is smooth and uniform, and will not flake or peel like a painted surface.

Omega SignBoard's vinyl surface is almost "self-cleaning," resisting dirt and the construction makes it easy to fabricate with standard wood cutting tools.

The hardwood core is a premium grade, rigid, exterior furniture-grade plywood with smooth, tight, sanded veneers for optimum surface beauty. It also is less likely to have gaps or voids in the inner-plys which is common in many MDO boards.

The vinyl surface is impact resistant and formulated with high performance UV inhibitors to reduce the fading effect of the sun.

Panels are single sided and have one finished, white vinyl surface. The other side is a bonded decorative plastic backer sheet for water resistance and balance. The finished side is shipped with a protective mask.

What are the recommended applications? Omega SignBoard is ideal for pressure sensitive vinyl.

This product can be used for signs of a more temporary nature like real estate signs, and billboards; however, its hardwood core must be edge-sealed before using outdoors.