Custom Flags & Banners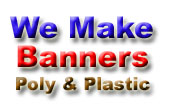 Custom made banners are available for all occasions, in any size, and for short term to long term use, in weights from 8 oz lightweight plastic to heavy duty 18 oz sun block banner.

Our banners are provided with hemmed edges for durability and with grommets, and rope or webbing to facilitate hanging.
To figure approximate cost on an 8 ounce poly banner (one color on white, text only), calculate how many square feet the banner will be (length X width) and multiply by $8.00.


For logos and specialized text please contact us with your needs.

We can also provide multi-color and large run printing.